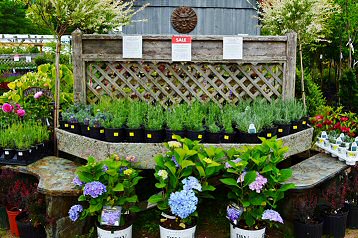 Welcome! Please come and explore our charming nursery!
John and I bought this property in 1979. It was a horse farm with a small orchard at that time. We started off growing some annuals, perennials, vegetables, and apples. In 1981, we built our sales building and our first greenhouse. From those beginnings, we have evolved and expanded, adding two more properties adjacent to ours, one more heated greenhouse and seven cold frames. We now have a large and unique garden centre, with an unbelievable selection of plants!
There are about 15 acres of nursery stock growing on our property. Our heated greenhouses hold large varieties of annuals, hanging baskets, tropicals, houseplants, and vegetable transplants.  Our perennial greenhouse and sales area is chock full of over 500 varieties of beautiful perennials, including ornamental grasses and bamboo, hardy vines, Clematis, Wisteria and a few pond plants. Our Hosta greenhouse now holds more than 300 Hosta varieties, the largest selection in the Maritimes!  Evergreens and broadleaf evergreens, including rhododendrons and azaleas are our specialty.   Also Japanese maples, magnolias, and flowering dogwoods, we have an exceptional collection, probably the largest in Nova Scotia.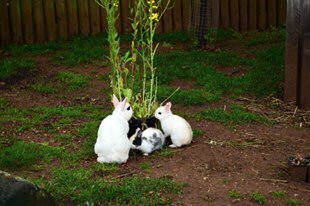 Garden art and garden decor add distinction and personality to your garden. We carry a good selection of containers, garden art and furniture, including statues, bird baths, benches, and trellises. Check out our stock of fertilizers, soils, and other supplies, too.
Several acres of gardens on the property, beautifully display our trees, shrubs, evergreens, perennials and vines. We sincerely hope these will inspire you and help you to choose plants for your own garden. Also while you're here, don't forget to say "hello" to our giant bunnies and our three flat coat retrievers, Zinnia, Cocoa, and Scilla.
Hope to see you soon! "It's worth a trip to the Valley"!
John and Lee Dickie